Illithid
From questden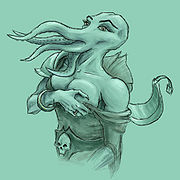 A race of squid-like brain-eaters with psionic powers.
Illithid originate from the Dungeons and Dragons franchise and have become one of the most iconic races from the game. They were created by Gary Gygax himself. They're intellectual property of Wizards of The Coast and therefore they don't fall under the Open Game License.
Notable Examples
This list is not comprehensive. Sorted chronologically.
See also
Monstrous Arcana - Illithiad