Boatface Adventures
From questden
A sort of sequal to Venji Quest. Involves pirates, a cast of characters stolen drawn from other quests, and bird. Lots of bird. Peep.
Continued in Retcon Quest.
This article contains spoilers! You were warned.
Cast
Starring (in order of appearance):
Captain Venji & Roz
of Venji Quest

The best goddamn pirate to ever exist. Sails the oceans with her trusty bird Roz looking for new lands to plunder and people to recruit to her crew.

'Dragontits' and Nilaka
of Help the Dragoness' and a Tezakian, respectively

Members of Venji's crew.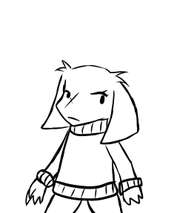 Sue
of Sue Quest, Sue Quest Too, and oh I guess Cave Story

A member of Venji's crew. Works with Jiniki and finds a ship and land.

Jiniki
A member of Venji's crew. Communicates telepathically.

Boaga
of Dragons

Wants strength and attractiveness to get Nilaka's attention.

Magic Johnson
of Tezakia Quest and/or the Los Angeles Lakers

Grants Boaga's wish by giving them... majicka of a sort.

Three-stripes and Kanela
of AsteroidQuest and Tales from Meigara, respectively

Three-stripes is a predatordog that speaks through empathy.
Kanela is the captain of the ship that Jiniki and Sue find. Headed for the Lost Island. Surprisingly can matche Venji in swordplay.

Alison
of Unnatural Selection (sort of)

One of Kanela's crewmates. Oh wait, it's actually

Spikesby
of Bite Quest

Wak wak wak.

Cotton-Candy Dragon
A dragon Venji and co. encounter in a cave while searching the land they explore.

Ijnev, Evilsby, and Mean-stripes
Totally their canon names. Evil twins to Venji, Spikesby, and Three-stripes.
Scalene
Ijnev's master. Makes others give in to their inner desires.


Ashela of Venji Quest does not appear onscreen, but is a part of Venji's crew.
ITQ
Captain Venji has appeared once Inside the Quest. [1]
Gallery
Official