Venji Quest
From questden
Venji Quest is a quest about the titular half-Tozol, half-Indahl girl stuck in cave or maybe some kind of facility. There is also a perverted dreamworm that lives inside her and also maybe a furry shark named Titzi. Yeah, we're going with that.
Characters
This article contains spoilers! You were warned.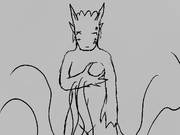 Venji
Venji is half Tozol and half Indahl. She's also working on fixing her biology, or maybe gaining new powers? She's trapped and amnesiac in a cave/facility!
Roz
Roz is a dreamworm that Venji met fairly early in her adventure. He's also somewhat perverted and likes her furry form. He melded with her at some point and now lives in her, offering a few benefits. It has been repeatedly noted that he is not much like a normal dreamworm, being magic for one thing, and it has been speculated that he might be something else altogether.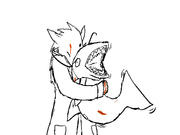 Titzi
Titzi is an unfortunately named furry shark, probably half Mok and half regular ol' shark. Pretty hostile but adorable being hugged.
Betsy
Betsy is a half valcien half salazzarine who used to be depressed but then Venji decided to play doctor and gave her drugs and now she's super happy. She can fly and cut stuff.
Ashela
An old friend of Venji's from before she got amnesia. Despite joking about it they were not that kind of friends. She's cute but gets sad sometimes so Venji hugs her.
Mantis
A somewhat naive robot Venji found and made friends with. She does robot things and plot devices occasionally like shooting giant laser beams. Also she's a virgin and gets super embarrassed when you ask her to interface with things.
ITQ
Appearances by the cast Inside the Quest
ITQ: Venji 1, Venji 2, Venji 3, Roz 1, Roz 2, Roz 3, Venji 4, Roz 4, Roz 5, Venji 5, Roz 6, Venji 6 and Titzi, Roz 7, Venji 7, Roz 8, Roz 9, Roz 10, Roz 11, Roz 12
Gallery
Fanart