Difference between revisions of "Static on the Wire"
From questden
Line 5:
Line 5:
 

|thread3=530133

 

|thread3=530133

 

|thread4=535642

 

|thread4=535642

 
+
 

|disthread1=72481

 

|disthread1=72481

 

}}

 

}}
---
Revision as of 05:57, 4 January 2014
Static on the Wire by Brom
73-6 is here to kill everyone.
Characters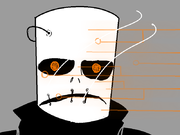 73-6
Reconstituted asset belonging to the Bureau of Domestic Defense. 6th and latest in the line of created intelligences occupying the 73 body.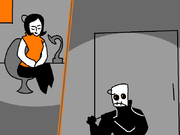 Monica
73-6's handler on field operations. Protective of her takeout.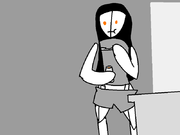 Sara Dalton
The brain of a retired US Marine field medic in a robotic chassis. Lived in the Hab-Block with her roomate, Keisha, until it was destroyed. Currently residing in a Bureau Outpost.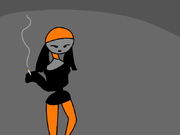 Keisha Chalthoum
Sara's roomate and DJ at a nightclub called Piston. Sharp-tongued and strong-willed to a fault.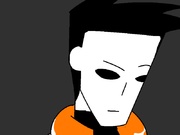 Penelope
Field Agent for Tribranch, a rival to the Bureau. Like all Tribranch agents, uses stims to enhance combat capabilities on-mission.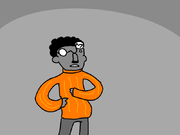 Mr. Chatreet
Was really looking forward to a nice cup of coffee and a quiet evening in.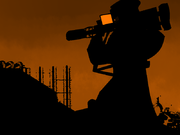 14-1
A retired Bureau field agent with years of experience and a Sniper Cannon on his shoulder, here to help 73-6.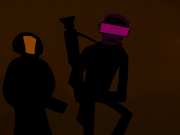 Dartline Alchemist
A mysterious man with a rocket launcher and a contraband visor. Works for the Fantoma Vengadores and destroyed Sara and Keisha's home.

ITQ Guide
A list of secure communications over the wire with Inside the Quest, sorted by the threads they ran concurrent with.
Gallery
Official
73-6 Concept Art
CIVILIZED DISCOURSE
Sara Concept Art
Monica Concept Art
Ever wonder what's under the trenchcoat?
Sara shows off the goods
This gallery contains material that is not safe for work. You were warned.
keisha what r u doing think of the children keisha noo
Fanart