Diveverse
From questden
Diveverse is the continuity shared by two popular quest series, DiveQuest and Knight Blades, and a pair of small tie-in quests (PaladinQuest and GiftQuest). There may be hints that this universe is connected with the Rubyverse and Mudyverse, but it's unknown whether it's actually canon.
For more information on the order in which Diveverse-based quests with simultaneously happening events should be read, consult the Crossover Guide.
Maps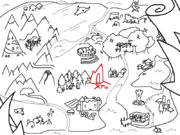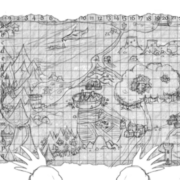 Locations
Elven Ruins
Ruins, presumably left by elves.

Fort Fleur
text

Goblin Camp/Settlement
Gobbos in huts.

Hot Springs
Exactly what it says on the tin.

Iniziare Citta
Refugees in rubble.

Kobold Camp/Village
Kobolds in huts.

Muschio's Lair
Villains in caves.

North Piacevole
text

Red Mesas
text

Ridder's Fort
text

Sepia Town
text

The River
HERE THERE BE CARP

The Tower of Olber
HERE THERE BE BABES

Village near the woods
text

Wonderseed
text

Westwater village
text

Yellow Fang's cave
Possibly related to Red Fang? it is a mystery

History
Mostly unknown, except for our own role in making it.

Connections with other universes
In DiveQuest, there is a painting in the High Roller's house, drawn in a style resembling the painting from RubyQuest. When asked, the High Roller said that it "was salvaged from the Cult of the Barbed Wheel in the Southeast, before their altar sank into the sea and they vanished from the face of the earth". Also, among the many races of the Diveverse there are rabbitfolk, catfolk and dogfolk, who look much like Ruby, Tom and Daisy. All this may mean that Rubyverse is the future of Diveverse; however, at the moment there's too little evidence to either confirm or disprove this theory.
In MudyQuest 2, Mudy arrives at a town called "Sepia Town" in the land of "Piacevole". There he hears about the corruption of Piacevole's kings and the brewing revolution. He also meets a person with a beak-like face, who says to call him "Mr.M". However, this person looks rather like a hybrid between a Volto and a Nedynvor: he has Nedynvor-like wings (which make him able to fly) and a big reptilian tail. Also, in this setting "Sepia Town" is a coastal city. Based on these facts, it's probably safe to assume that these parallels are just homages to DiveQuest (Reaver hadn't yet started PaladinQuest/Knight Blades at the moment) and not actual signs of connections between the two universes.

This article is a stub. You can help improve Wikiquest by expanding it.