Through the Chaos
From questden
Through the Chaos by Cirr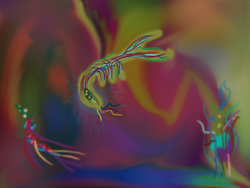 A quest by Cirr, the adventures of a PSYCHEDELIC SPORE. You are a chaos creature struggling to live in a world made of chaos itself, adapting and growing and eating and maybe, just maybe, finding love in the midst of all the chaos. Truth x Sensation otp

This article is a stub. You can help improve Wikiquest by expanding it.
ITQ
Appearances by the cast Inside the Quest.
Somewhat complicated by the fact that it is unclear if Truth from Resonance is, or once was, the Truth from Chaos. Also, the penultimate entry seems to (somewhat controversially) establish a future Sensation as the principal actor in Ten Updates.
ITQ: Truth / Truth, Truth 1, Sensation / Truth, Sensation 1, Sensation 2, Sensation 3, Sensation ∞, Cirr 1