Sue Quest, Too
From questden
Sue Quest, Too by Reka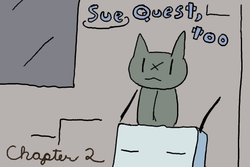 Authored by Reka
Inspired by Sue Quest.
You are Sue. You are hiding inside your friend's house because people are assholes. Hey, doesn't this setting seem familiar?

This article is a stub. You can help improve Wikiquest by expanding it.
Other Appearances
Sue appears in Boatface Adventures.
ITQ
The cast has made one appearance Inside the Quest. [1]